Check out all of our
mdi

Academy

training material at our main website
---
How to Select your Coxreel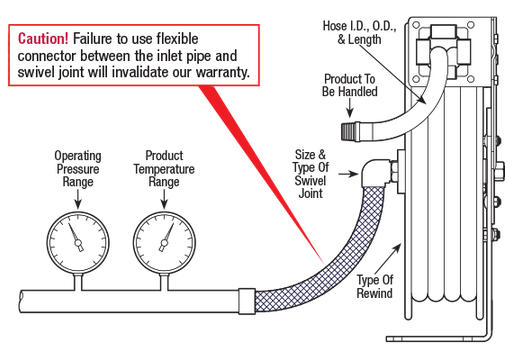 When selecting your Coxreel, there are a few factors which help determine what model works best for you. Think about your application and consider the points below:
---
1. Hose I.D., O.D. and Length
When space permits, select a reel with greater hose capacity than you require. This allows you to rewind the hose with less care and keeps the hose well protected within the disc dimension, even if the hose is not wound in uniform coils.
The drawing below two reels with different shapes and dimensions but with identical hose capacity. In most cases, more than one reel will handle the size and length of hose you need, so you can specify a reel to fit your space requirements.
---
2. Size and Type of Swivel Joint and Seal for Inlet and Outlet
In selecting your reel please note the size of you hose versus the inlet and outlet sizes. Reducing your fitting & hose size will allow for more hose capacity.
---
3. Retraction Method and Proper Use
Choose from Spring Driven, Hand Crank or Motor Driven retraction.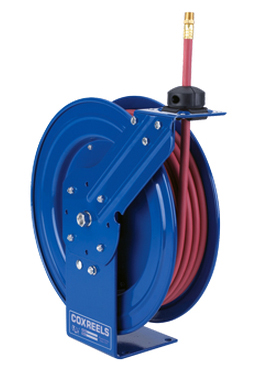 Automatic rewind requiring no power source. Operator is to guide the hose or cord as it self-retracts and wraps around the drum.
Controlled Self-retracting spring driven reels for increased safety. Reduce retraction speed by up to 80%. Control hose or cord whip hazard. Requires no external power source. Keep your workplace organized. Utilize space and maximize efficiency Improve hose, cord & cable management.
---
Operator must manually crank the reel and guide the hose or cord evenly as it wraps around the drum to reach full capacity.
Requires a power source to operate in AC, DC, Air or Hydraulic power. On/Off switches and speed controllers are available to help control retraction speed. You must guide the hose or cord efficiently back on the reel to reach full capacity.
---
4. Mounting Position
Determine which mountin position you require. All reels are shipped in the floor-ceiling mount (FM) position with the exception of the "T," "EN," and "SD" Series, which are shipped in the wall-truck mount (WM) position. See diagram to the right for the "SP & DP" Series as well.
---
---
---
5. Type of Hose
Consider temperature, product type and pressure required (PSI). Always use good quality hose rated for the service and operating pressure required. Poor quality hose tends to expand and contract under pressure surges. When this happens, hose remaining on the reel may bind and become difficult to handle. In extreme cases, poor quality hose may expand under pressure to the extent that the reel becomes distorted and inoperable.
---
6. Additional Options
Customize your reel to meet your exact requirements. Once you select your reel type consider the different add-on features such as roller brackets, special mountin brackets, carry handles or a cart for portability.
Customize fluid paths/axles or create custom brackets, mounts, and accessories.
Integrate with your specific hardware, systems, or devices.
Modify drums, add divider disks, manipulate openings, or integrate hose handling devices.
Combine features of various reel model lines, creating your own hybrid reel.
Create custom retraction systems.
Increase temperature and pressure capabilities, or multiply fluid paths.
Many other options exist. Speak with an

mdi Rep.

today
CPs & CCRs: Coxreels offer two types of custom products. CCRs and CPs each offer specific benefits to our customers.
CCRs or cox Custom Reels are custom reels assembled out of existing components. CCRs allow customers to combine features of various reels and create completely new reel lines. CCRs range from simple request of swivel size changes and hose combinations to a new dual hose side mount reel built by combining our MPD-N-430 with th emountin gof a SG17-430.
CPs or Custom Products are custom reels that fall into a more demanding category that allows customers to request completely custom components and assemlies specific to their application. CPs include simpler items like custom powder coat colors and new special hoses and also more complex requests in the vein of new interfacing brackets and frames, or divider disks and even new mounting bases. CPs allow OEMs, factories, and industry specific companies to get a leg up on their competition by having a reel incorporated into their product or service only available to them. Match the right color, incorporate your own drive system, or develop a new product just for you!
Powder Coat Options
To add any of these options to your designated reel simply add the option number to the suffix of the model number. 3 digit suffix for spring driven or 4 digit suffix for hand crank & motorized models. Consult your mdi rep. for custom color match.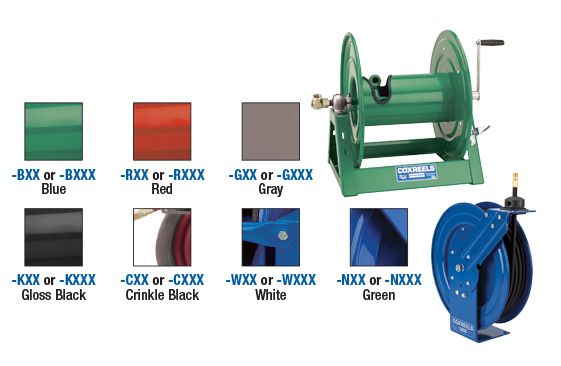 Popular Customizations
Spring Reels and EZ-Coil
"-BVX" ...Change to VITON® seals
"-BAX" ...Change to stainless steel fluid path & nitrile seals
"-BBX" ...Change to stainless steel fluid path & VITON® seals
"-BWX" ...Change to stainless steel swivel with food grade seals & non-toxic grease
"-BXB" ...Add bend restrictor to hose
"-BXC" ...Add Constant Tension (No latching mechanism)
Hand Crank and Motorized Reels
"-BVXX" ...Change to VITON® seals
"-BAXX" ...Change to stainless steel fluid path & nitrile seals
"-BBXX" ...Change to stainless steel fluid path & VITON® seals
"-BDXX" ...Change to stainless steel swivel with food grade seals & non-toxic grease
"-BXCX" ...Top 4-way rollerbracket
---
Optional Products